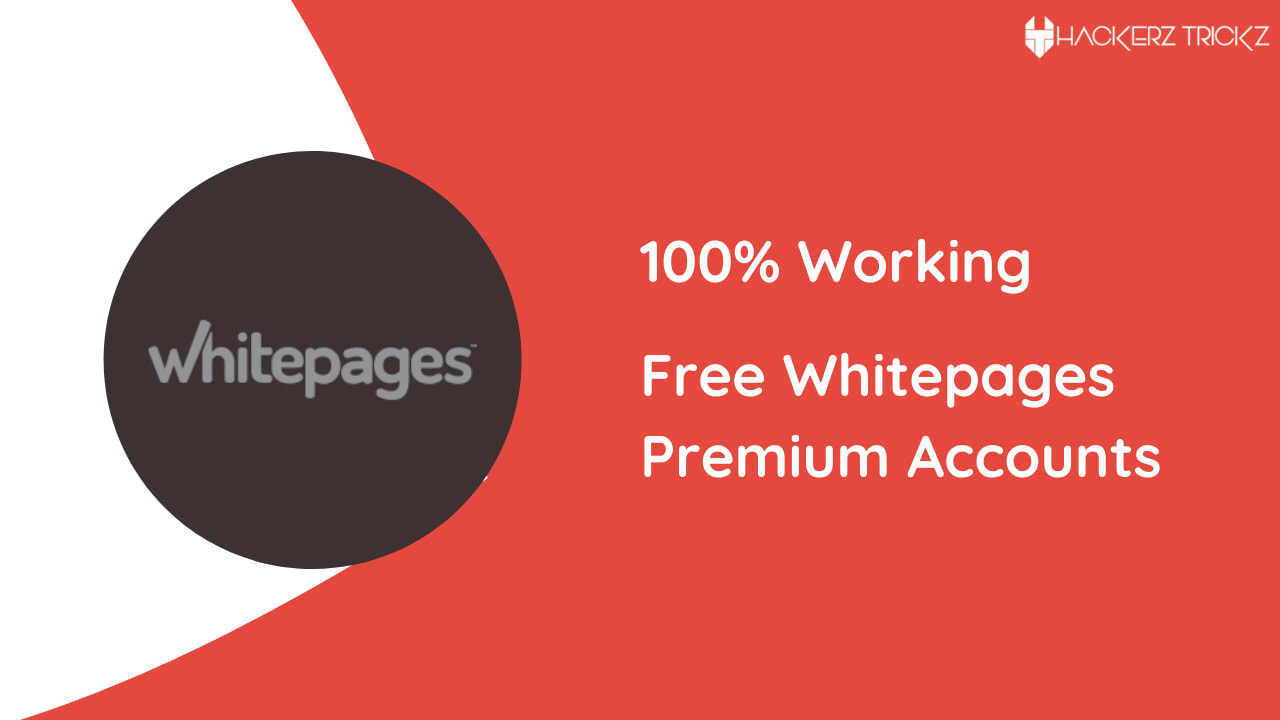 Today I am going to share with you 100% Working Free Whitepages Premium Accounts.
Have you ever searched for someone online, their location, information, and others? If yes, then you might be well-acquired with Whitepages.
It works as a platform holding the personal information of people registered in it and is one of the best platforms that help you find your lost friend or family members. Not only that but also works as a provider of fraud screening services for businesses. 
The more this virtual arena is getting saturated with people, the more it's getting difficult to differentiate between fraud and real, and at this point, Whitepages comes into the scene. With hundreds of user-helpful interfaces, this website has become one of the most reliable platforms for consumers.
It means if you are not sure about the authenticity of a person, you may search for him on Whitepages as it will exhibit the personal database of that person that will make your perturbation vanish within a second.
Like other applications available in the computerized world, Whitepages has also a premium version. Though this application gives a free trial of 7 days, after this limited duration, you have to purchase a Whitepages Premium membership. So that it lets you know about all the authentic information with extra precision.
Now,  if you are reluctant to spare money for just searching online information or if you don't have enough financial strength to purchase Whitepages premium subscription plan, you just entered the right site.
Here we've provided a number of free Whitepages premium accounts and passwords that will come in handy to find people, their addresses, contact details, and other personal information.
So, keep an eye further in this post to know more about Whitepages free premium accounts and passwords.
Also Read – 100% Working Free Keep2Share Premium Accounts
What is Whitepages?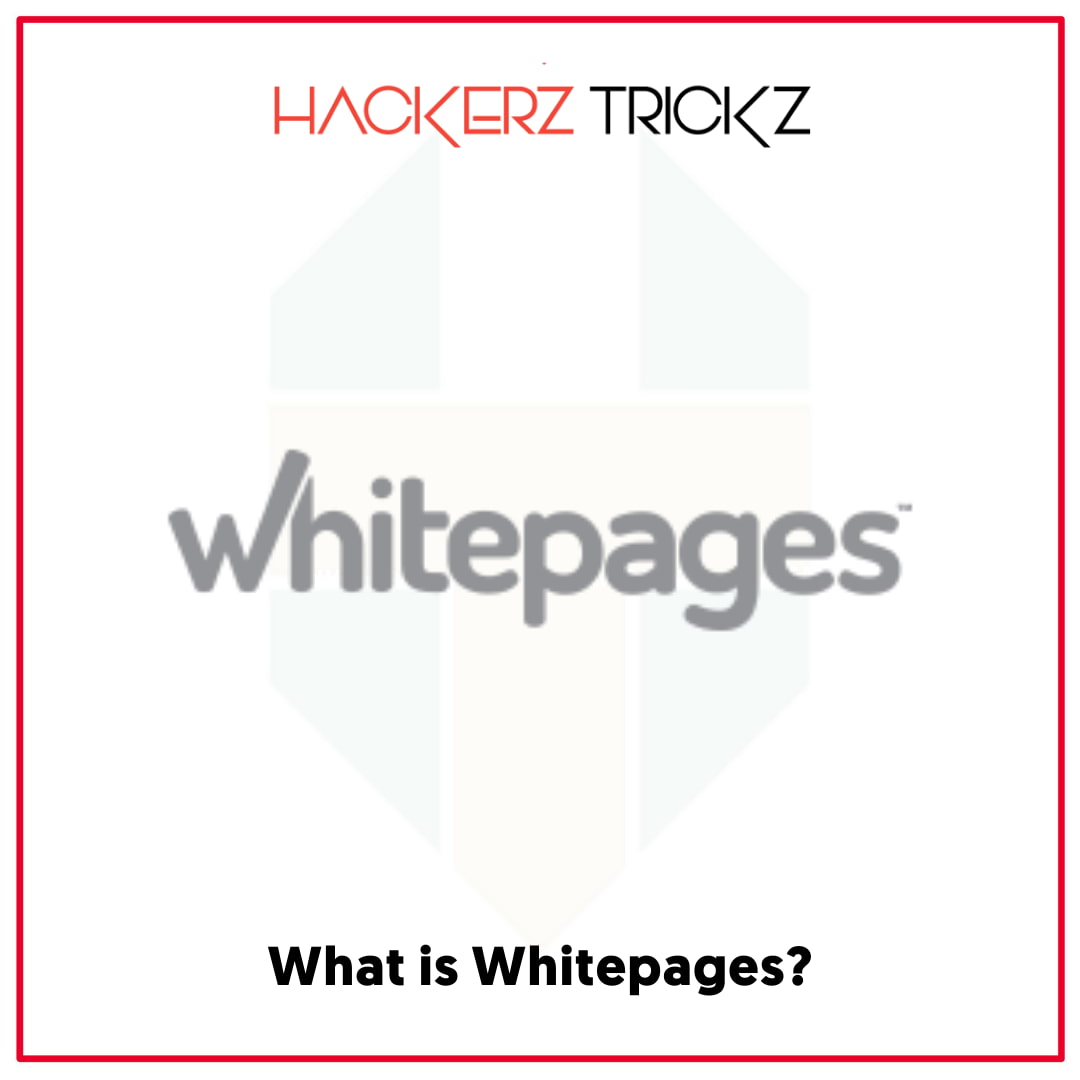 Founded in 1997, Whitepages is a supplier of identity verification, online directory services, background and authenticity check for businesses, and common usages.
More specifically, unlike other websites available in the market, Whitepages simply stores the information of the people's name, address, location, and so on and displays them when someone searches on these sites with names.
Furthermore, Whitepages has a database of contact information of the US citizens that helps one to find the authenticity of persons or businesses virtually.
Also Read – 100% Working Free Discord Accounts Premium
Subscription Plan for Whitepages: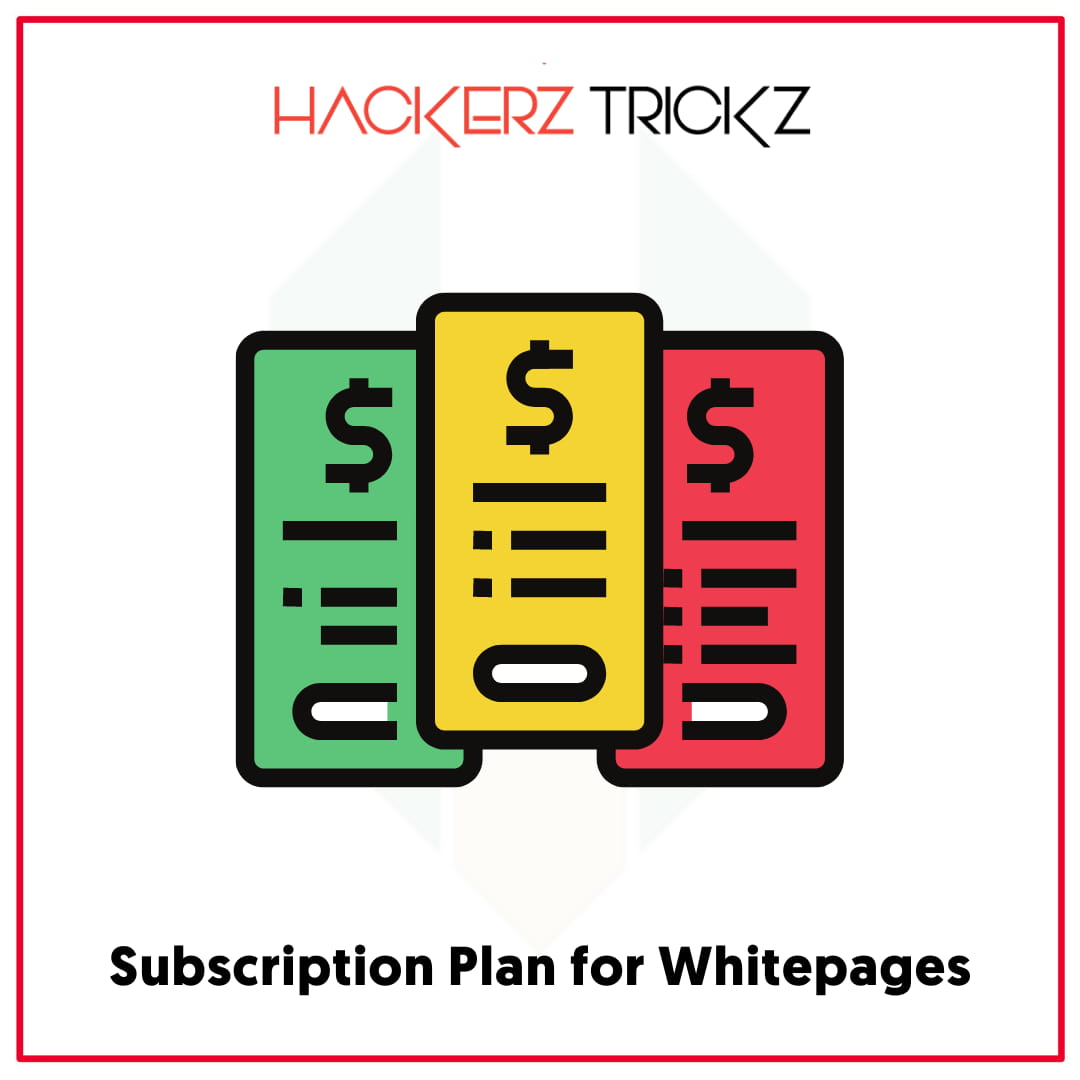 Here in this section, we've covered the most asked and relevant topic regarding Whitepages. For those who are already members of Whitepages subscription plans, nothing new is left to tell about it.
But the newbies, who are thinking of purchasing a membership of Whitepages, might get confused about the price and plans of this platform.
So, to help them, here in this section of the article, we've discussed a few points regarding Whitepages membership. Continue reading to know everything about Whitepages.
There are different kinds of plans that you may subscribe to as per your needs. Offering multiple handy hacks, these plans are really pocket-friendly. No matter what your financial status is, you will get easy access to Whitepages premium login.
For instance, Whitepages unlimited plan costs you $3.99 per month offering unlimited basic lookups including current addresses, relatives, and landlines.
Likewise, Whitepages unlimited plus costs you only $4.99 per month offering 20 premium lookups and for $19.99 more than 200 premium lookups, and the annual package costs $29.99.
It means, doesn't matter what plan you are subscribing to, most of them will provide you premium access to Whitepages and help you to obtain personal details such as mobile numbers, email addresses, historical records, criminal records, and many more that are really very tough to find. 
But, if you still can't access them, don't worry, further, we will discuss Whitepages free premium accounts that you can use to enjoy the paid subscription plans for free.
Also Read – 100% Working Free Clash Royale Accounts
Features of Whitepages Premium Accounts: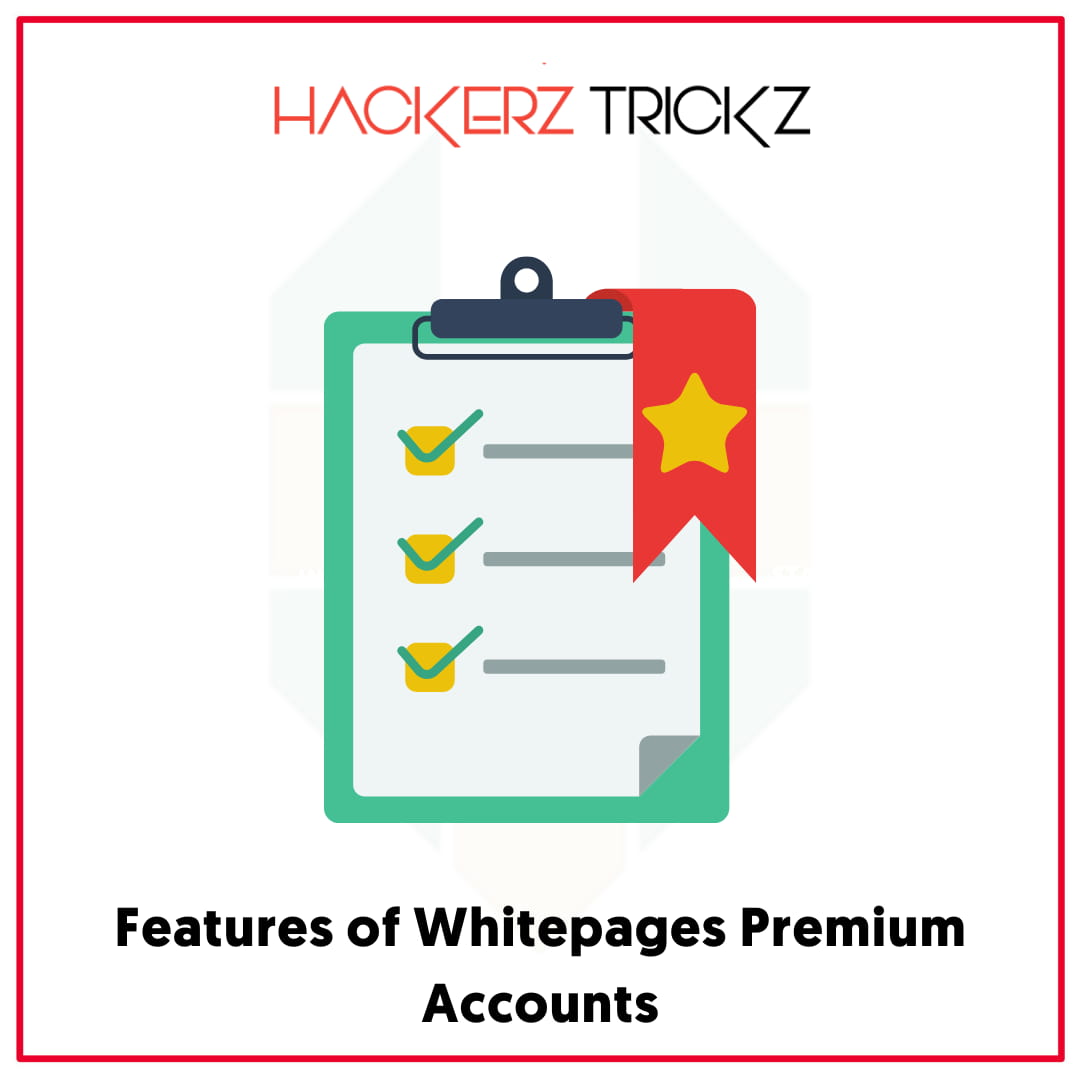 What are the conveniences of Whitepages premium accounts? This question definitely runs on your mind. If yes, here's the solution. Whitepages premium accounts obviously have some premium benefits that have made it one of the most robust people search engines on the web.
It means the money you are sparing for Whitepages premium plans is worthy. Let's know more about the premium features of Whitepages.
Whitepages is not affiliated with any third-party companies. It's a privately owned business that helps people by giving accurate information. All the databases provided in this platform are assembled from different third-party data suppliers and publicly available information.
It means unlike other people's search engines available in the market, Whitepages offers valid and explicit information that helps people to get acquired with the unknown person or companies more precisely. The burning proof of this statement is the reviews of people who have already given a try to Whitepages. 
With having a user-friendly interface and smooth navigation, Whitepages has become more acceptable to people. It won't take much time to show the results.
Also, to make this searching procedure easier, Whitepages has launched its own app that can be operated remotely through background searches. 
When we use any people's search engine website, transparency matters a lot. Also, Whitepages never claims that they provide 100% legit information.
And they already have mentioned that the consumers should verify the information before taking it as an authentic one. Moreover, their privacy policy is also up to date and fully secure to rely upon.
Now, where do Whitepages accumulate the information from? This question has two answers. One is through public resources and the second one is third-party companies. Also, Whitepages takes information from different social media platforms.
Furthermore, data licensors, affiliated entities, marketing companies, etc. are also the major sources of information on Whitepages. The reach of this website is so premium as it even displays people's criminal records if there are any. 
Whitepages offers its users premium background checking and screening potential tenants called SmartCheck and TenantCheck accordingly. SmartCheck is a confidential interface assembling data from different kinds of online resources and records.
It allows you to check current and former address information, property ownership, personal information, phone number, email addresses, and so on. 
Similarly, Whitepages TenantChecks displays the consumers the information about criminal history, resident score, general contact financial information of a potential business partner, and much more.
That's why, if you are a landowner or business person, the Whitepages Tenant Check interface is going to be super-handy to you.
Option to Verify Unknown Calls and Messages:
The reverse lookup feature of Whitepages will help you to discover suspicious unknown calls and messages i.e. Whitepages is also providing you protection besides allowing you to search for backgrounds. 
What more does one need if he gets to enjoy all of these alluring and premier features of Whitepages. Now, discovering unknown people is in your hand. Be it for making new friends or checking someone's authenticity, Whitepages premium accounts will get that job done within seconds.
Now, sparing money on Whitepages is good since it's providing all the appealing features just by collecting a few dollars from you.
Also Read – 100% Working Free Snapchat Accounts
How to Use Whitepages: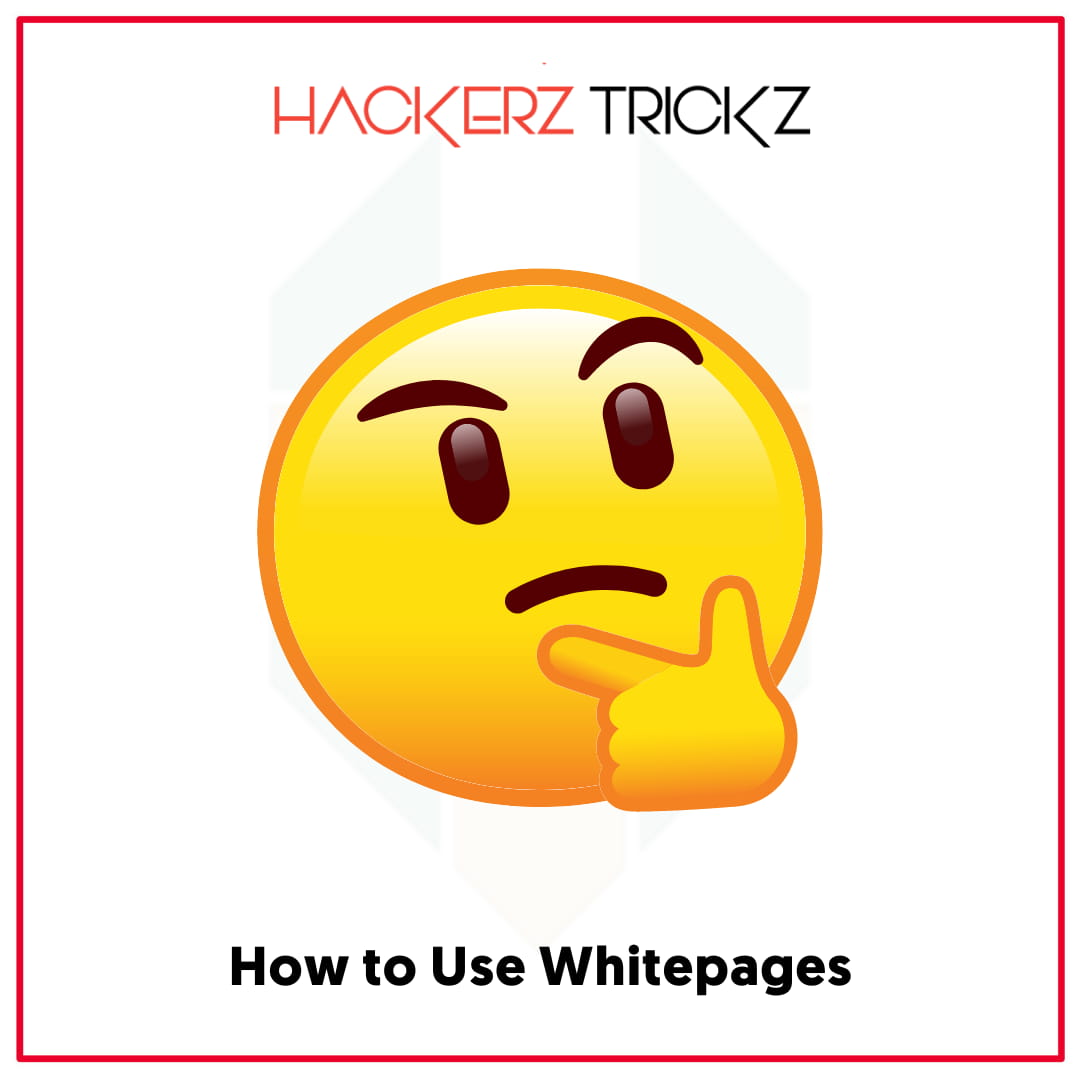 As said above the website is user-friendly. Finding details of a person isn't a difficult task. To do it, follow these steps to get the job done.
First of all, visit the Whitepages website on your device.

On the left-hand corner of the page, you will find the "background check" option. Click on it and Input the person's name and address to search for information. 

Here you'll get an option "reverse phone search" or "reverse address search" that works as the best free reverse phone lookup service. But Whitepages doesn't share much information until or unless you are paying charges for them.

Finally, you'll be redirected to the result page where you will get all the basic information about the person you are searching for. 
Now, for better results make sure to purchase a subscription plan and if you want to buy some reports, you will get it via email. Otherwise, check out these free Whitepages premium accounts.
Also Read – 100% Working Free GTA 5 Modded Accounts And Passwords
Free Whitepages Premium Accounts and Passwords: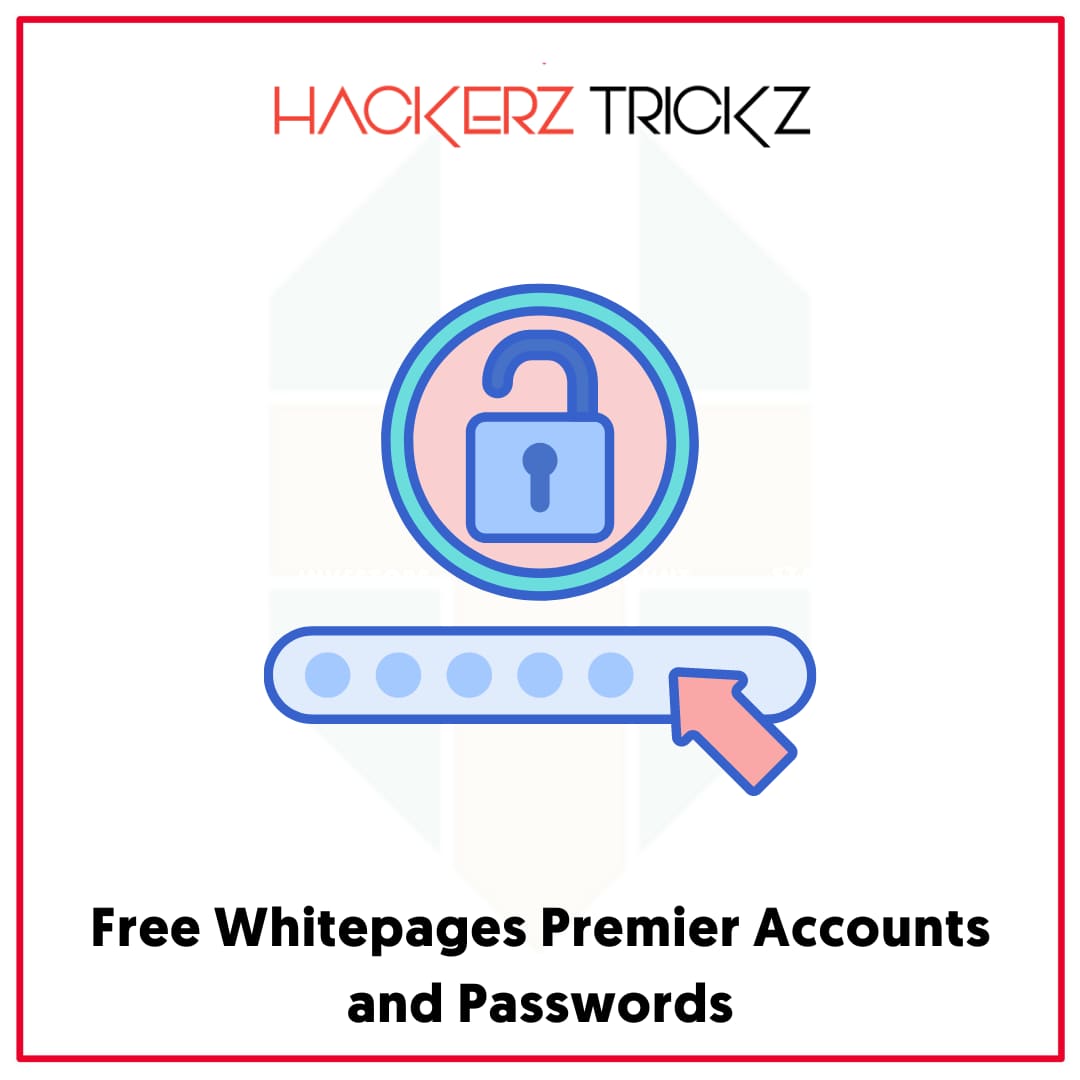 Hope you all are acquired with the supreme features of a Whitepages premium account. But do you want to get access to the premium features of this people's search engine website without spending a single penny?
Here we've provided a long list of Whitepages premium free accounts and passwords that you can use while logging into Whitepages.
If you use these accounts, you will not only get to enjoy all these stupefying features but also experience smooth access without any hindrances.
Moreover, all the Whitepages free premium accounts mentioned in this article are 100% legit and there is no third-party involvement. So, without further ado, quickly have a look at these accounts and grab the best one for yourself.
| | |
| --- | --- |
| Email | Password |
| liftoy_pimayrs@gmail.com | 693545244 |
| eptaydogg.eggs@mail.com | firyoGilk19 |
| donty_tayg@outlook.com | eflay@toi |
| livyo_noah@hotmail.com | tricnog5ed |
| firay.sirtagn63@gmail.com | piymasO09 |
| dafety.oga@gmail.com | firilady268 |
| hongars_potani@outlook.com | 226782365 |
| carpediam.salod@gmail.com | dai62783 |
| darikoluma@gmail.com | bunvilgan578 |
| anavlolog26@gmail.com | gTpxak5803 |
| tirptax4965@gmail.com | XviPTakxm |
| ponvalcutmix@gmail.com | HyspGl65k |
| hantercanom@gmail.com | gZma491lp |
| carnfinilak58@gmail.com | ebtorpixma |
| aaby79709@gmail.com | mchcMalang |
| abbyarsyil179@gmail.com | Abbyfarahcavi |
| abdulaziz060802@gmail.com | 4bdul4212 |
| abimanyu09@gmail.com | jarehgah021 |
| aditanshdbh@gmail.com | aankmega23 |
| oliver@yahoo.com | JKFzmnf6 |
| pruett@yahoo.com | qQrJW7VB |
| reynolds@hotmail.com | HJX7Mxcf |
| sadowski@pacbell.net | zMtF42vb |
| scott@earthlink.net | BjG5dtsX |
| smith@yahoo.com | 6JMftZEF |
| thomas@earthlink.net | 8nejA3rW |
| stephens@aol.com | w2m7qxU6 |
| vernon@hotmail.com | g3VDeFpA |
| scotty2006@comcast.net | fpVU5zgZ |
| scotty4465@yahoo.com | z7nsWu9X |
Also Read – 100% Working Free Pokemon Go Accounts and Password
Hacked Whitepages Accounts and Passwords: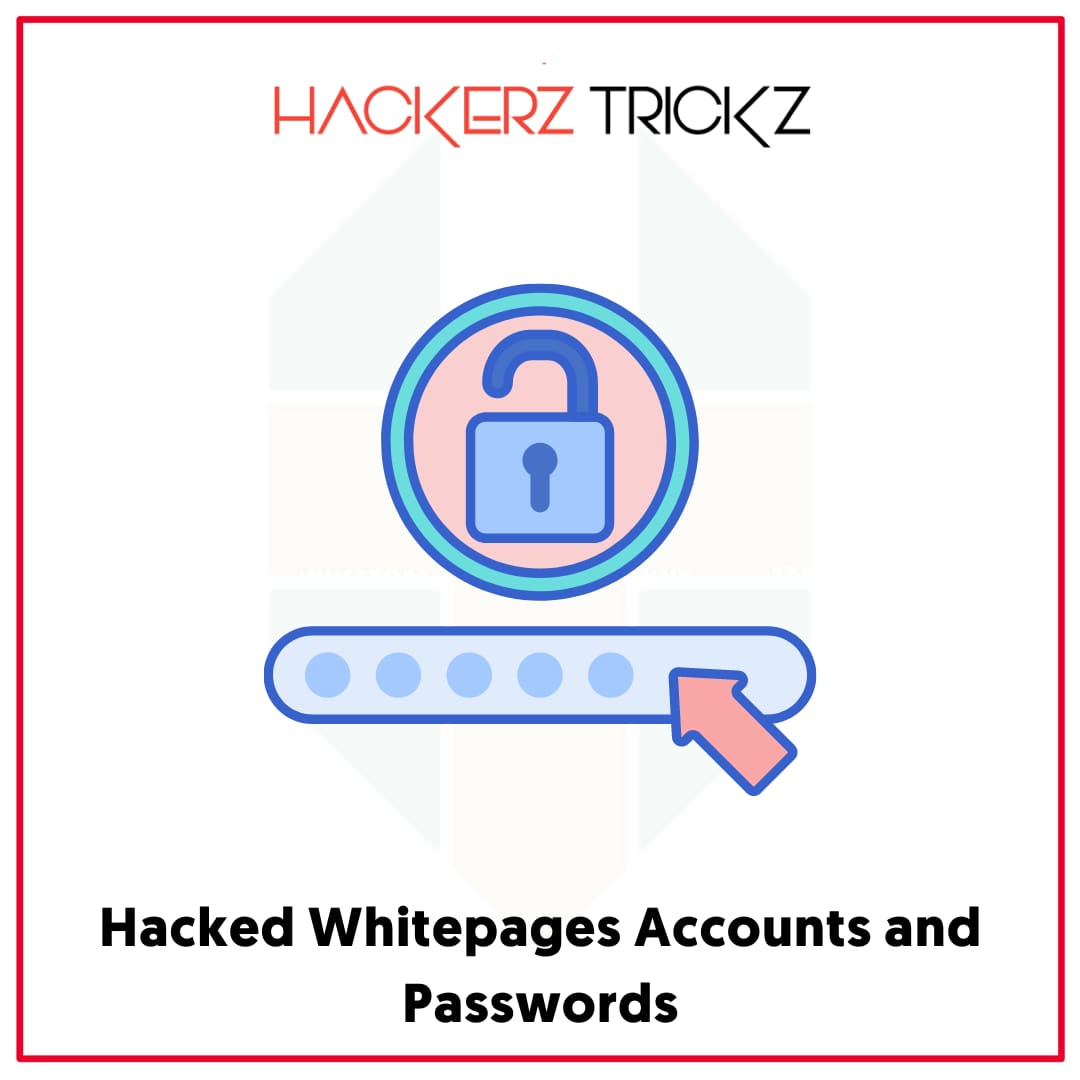 Here in this section of the article, we've presented hacked Whitepages accounts and passwords. Basically, hacked accounts mean when an account gets accessed by someone who is not an authority of that account.
So, there are also some hacked Whitepages accounts available in this computerized world.
If you are someone who is in search of such hacked Whitepages accounts and browsing lots of websites to find one, don't worry, check the below-mentioned list and pick one hacked Whitepages account as per your choice and use it while logging into Whitepages website.
| | |
| --- | --- |
| Email  | Password |
| scotty5@cox.net | 7enENRKL |
| scottybucks@yahoo.com | qBRMUZb5 |
| scottybird442002@hotmail.com | YNsBHR4t |
| scottye@ameritrade.com | F8jcGykX |
| scottyg@cfl.rr.com | dtqprZG9 |
| scottyg8983@att.net | AB4bZ295 |
| scottym1@gmail.com | wGdy2bck |
| scottz@gmail.com | PsY97CQG |
| scottz@netzero.net | KsM9hn3L |
| scoughenour@aol.com | MhKtj6Ha |
| scouncil@bellsouth.net | G8f6Qg3F |
| scountry@excite.com | 8xm56YsN |
| scour@comcast.net | 6Q3NPmMz |
| scoursen@aol.com | za82NGfy |
| scourtney@bellatlantic.net | Z7XT3jBU |
| scousineau@msn.com | QneH6UqX |
| scoutbmg@yahoo.com | 9VWNcBxE |
| scovelli@comcast.net | NcP2aExw |
| scovill@aol.com | guHS2cAk |
| scovino@yahoo.com | rKwet74U |
| scovy@hotmail.com | TLvAyK2r |
| scowart@geocitie,com | ETAyHK2S |
Also Read  – 100% Working Free Fake Gmail Account and Password List
Whitepages Modded Accounts: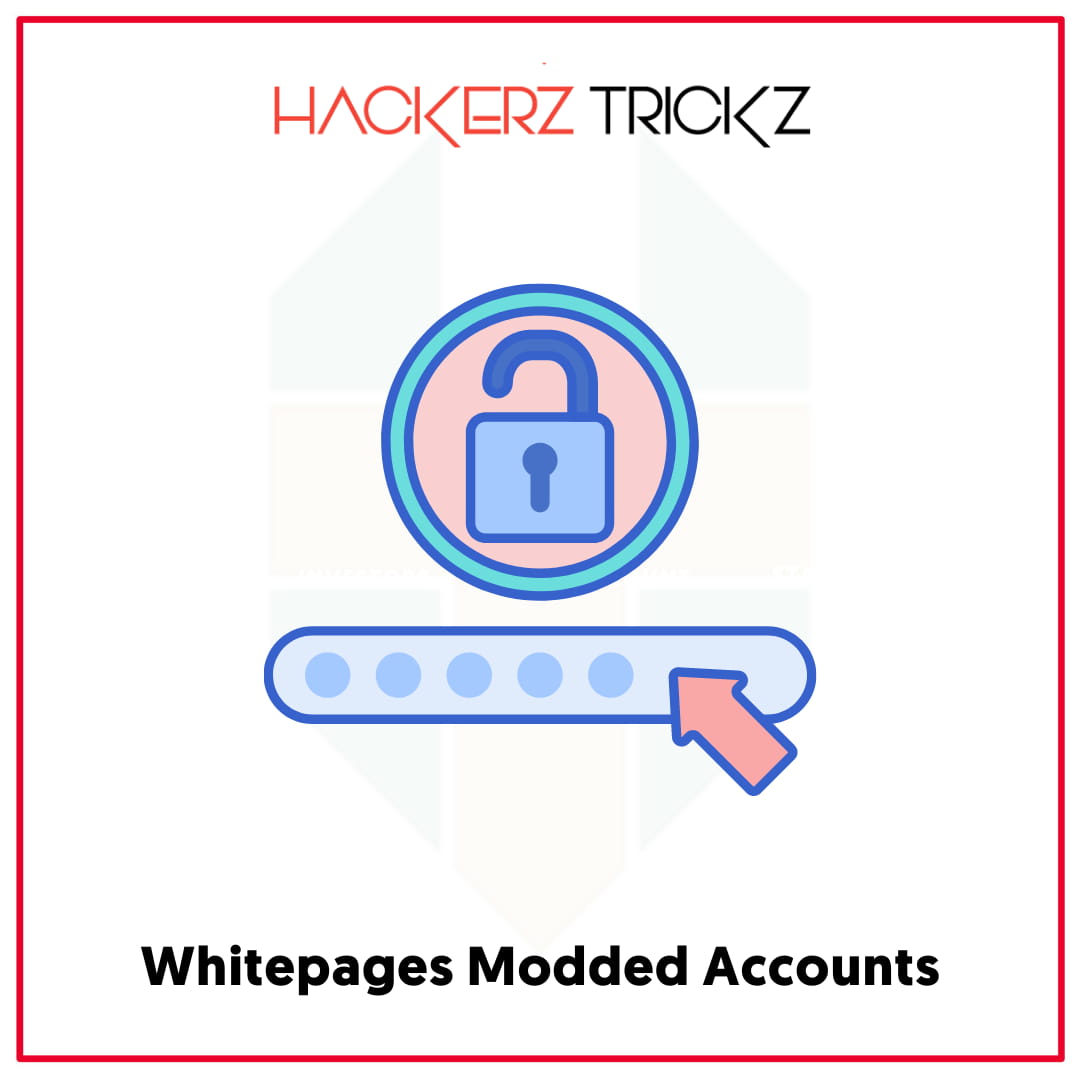 Are you a modded account lover? If yes, then this section is for you. We have already discussed all the premium features of Whitepages premium accounts. Now, like other applications in this virtual arena, Whitepages has also its modded version.
This modded version offers lots of additional stupefying features that will let you enjoy the site more than the actual one. But, most of the websites don't offer proper modded Whitepages accounts.
That's why, to ease your effort, we have listed a handful of premium Modded Whitepages accounts and passwords. So, without wasting the time just check this list carefully and choose the best one for yourself.
| | |
| --- | --- |
| Email  | Password |
| scox@fuse.net | 652u7TSL |
| scox1628@worldnet.att.net | 4Kv9peSn |
| scox3944@yahoo.com | B3ytG2c5 |
| scox4348@yahoo.com | 2XPmQrwB |
| scozine@att.net | L4uhAPXy |
| scozen@att.net | crS3beEh |
| scrabb@ccom | FhADq29x |
| scrabb@hotmail.com | 7vMgfXLh |
| scradlin@ccom | WMBdS5s4 |
| scrabtree@svprobe.com | 7qdbPKC2 |
| scraft@ameritech.net | gUEHpe3n |
| scraig@excite.com | wFxa7zZ3 |
| scrain@gmail.com | Px27J95A |
| scrain@rediffmail.com | jTuV5EbA |
| scramer@earthlink.net | GLK3xuc6 |
| scramer@rocketmail.com | bSXxqNy8 |
| scramer@juno.com | bLrpC8ZU |
| scrandall3000@aol.com | U6vEGk9H |
| scrap_book_lover@yahoo.com | Sy5qJgxW |
| scraphappens2002@yahoo.com | W9HpBKSt |
| scrapps042000@yahoo.com | dRU6Yy7L |
| scrapybaby125@aol.com | uGtq5fAb |
| scratchy@ev.net | pP3HtT9z |
| scrawley@aol.com | uQ5KdYrP |
| scrayton@comcast.net | 3bmTZMKv |
Also Read – 100% Working Free Roblox Accounts and Password
Legit Whitepages Premium Accounts: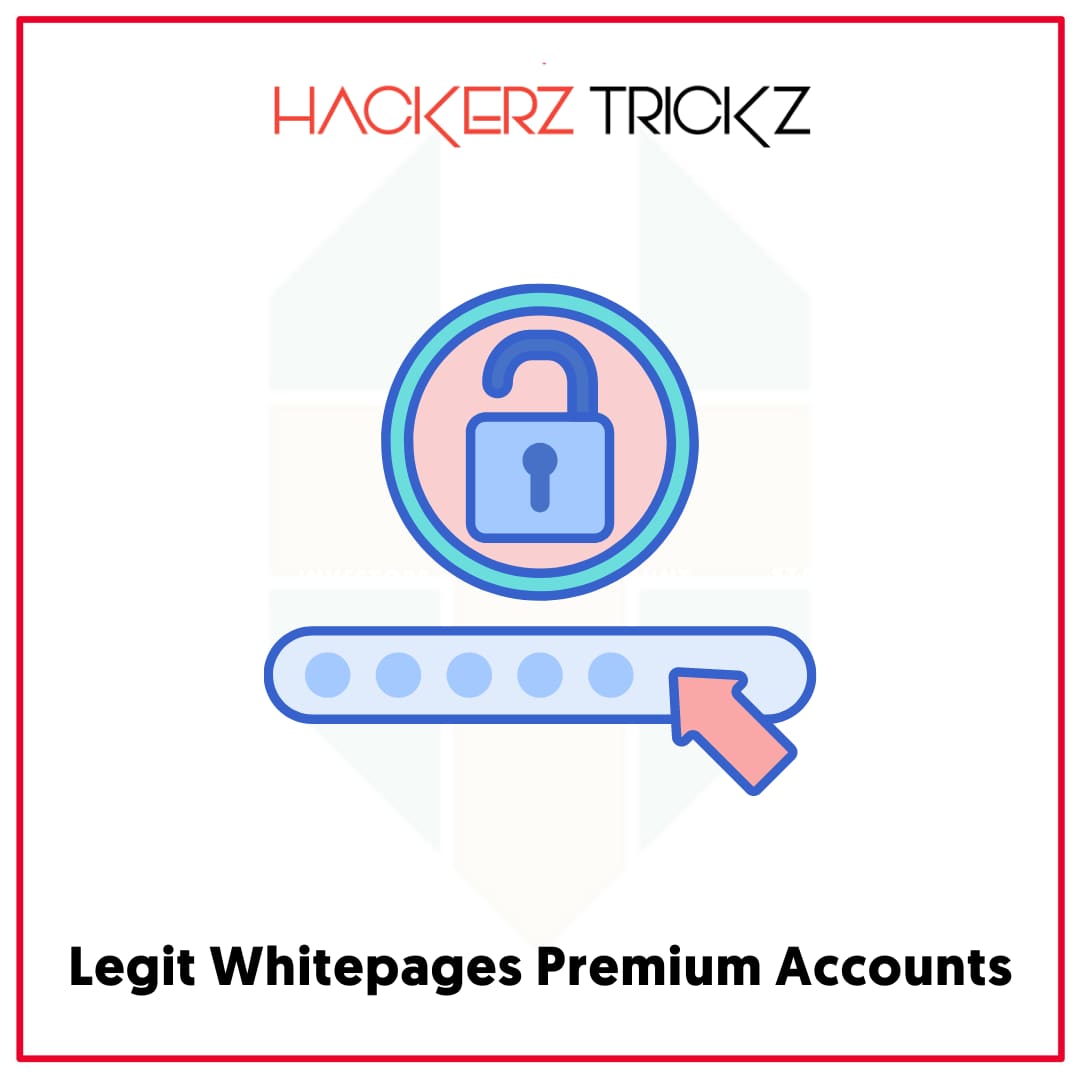 This is the most important part of this article. There is an endless number of Whitepages premium accounts available in the market. But whether they are legit or not is the most prominent question that every Whitepages user asks.
You can't blindly rely upon anyone in this case since the scammers and hackers might trap you in greed with free Whitepages accounts. The safest way to solve this problem is to take accounts and passwords from a website that is 100% safe.
Contemplating this confusion, we have made a huge list of legit Premium accounts and passwords that are fully secure and safe to use. Have a look at them.
Hope you have chosen a free Whitepages premium account for yourself. If you're still in confusion about whether to rely upon these accounts or not, then let us remind you again that the accounts mentioned above are fully legit and ready to use.
No third-party accounts are involved. So, don't suffer from the dilemma. Pick one and apply it to enjoy all the premium features of Whitepages.
| | |
| --- | --- |
| Email  | Password |
| scraytonbarnes@yahoo.com | kSscpY8y |
| screamin_chicken68@yahoo.com | UMtwpsv7 |
| screak@comcast.net | 7NCPYXsB |
| scredeur@comcast.net | JPkhLSA3 |
| screechf@yahoo.com | QWDamAU2 |
| screel@adelphia.net | Tbt3eG5q |
| screehan@comcast.net | 2B8Sgdtz |
| screighton@verizon.net | WN7QP8dC |
| screw@msn.com | JXdGYz5p |
| scremmer@aol.com | bypBmT6N |
| screws@juno.com | BZwKt7JA |
| scribbles504l@aol.com | ga9WXvFT |
| screwy13045@peoplepc.com | JYGFb4qB |
| scrick@gmail.com | HLc8hJwA |
| scrigler@aol.com | Azyd7NRT |
| scrigler@msn.com | 7y8VuxMa |
Also Read – 100% Working Free Disney Plus Accounts and Password
Frequently Asked Questions: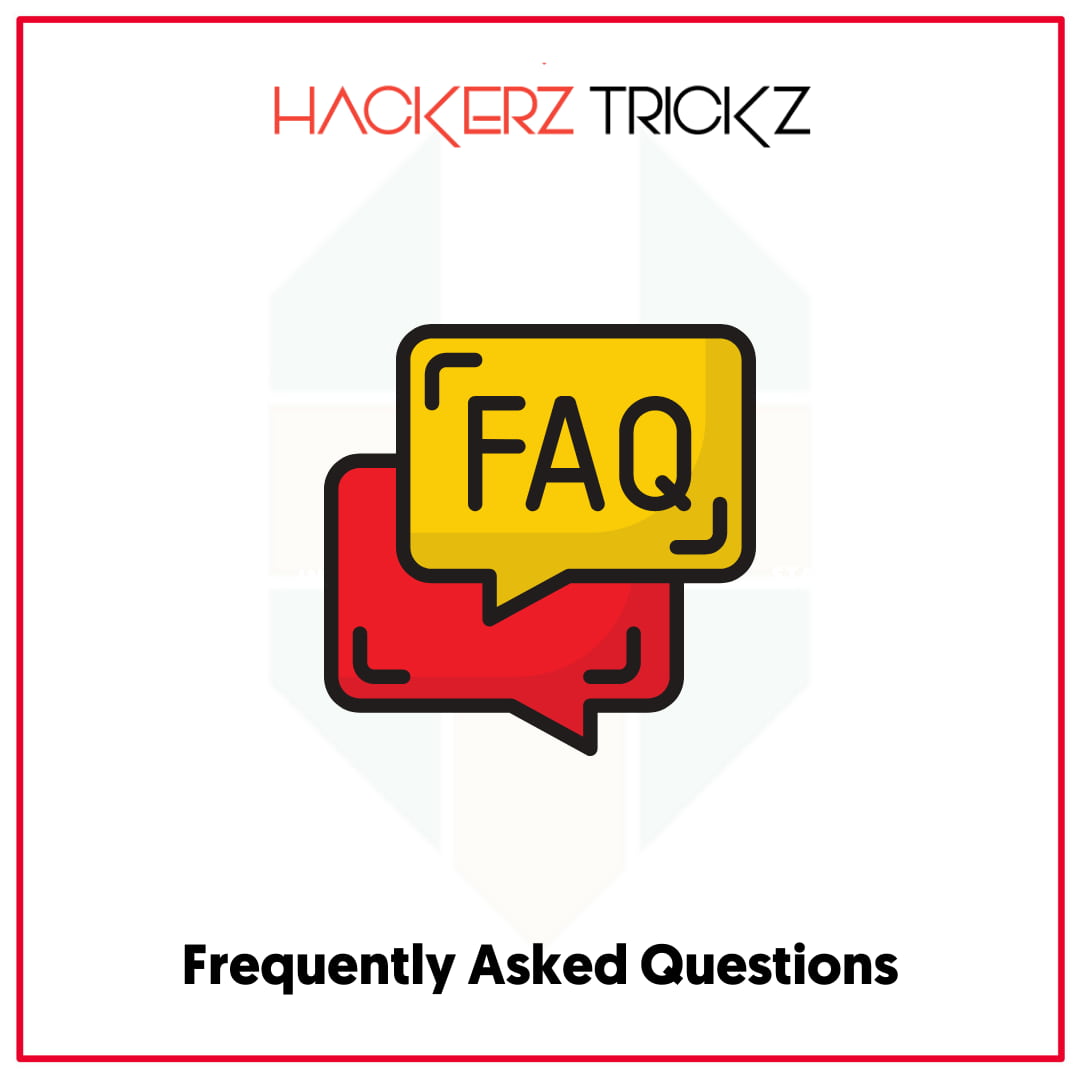 1. What is Whitepages?
Whitepages is a supplier of online directory services, background checks, identity verification for consumers and businesses. It simply stores data and displays them to the people when they search for any person or business. 
2. Is Whitepages Illegal or Legal?
Definitely not. Until or unless you are committing any crime by scamming the personal information of people. Moreover, if you use Whitepages for fair usages, there is no crime in it. 
3. Is Whitepages Safe?
There is no official complaint against the site Whitepages. With a user-friendly interface, Whitepages stands out to be the handiest platform ever.
So, if you have any doubts about the site, check the reviews of users who are already using it. As of now, it is completely safe and secure since lots of people are using this platform and getting benefitted from it.
4. Is the Information on Whitepages Confidential?
Of course. According to the review posted by trusted users, it is discovered that Whitepages is confidential and anonymous. It just accumulates data from different online sources and third-party companies. 
5. Does Whitepages Cost Money?
Since Whitepages is comparatively a better people's search engine than any others available in the market. Like all platforms, it has subscription plans that you can purchase to get in-depth authentic information about someone.
The subscription plans are really very affordable and anyone can spare money on them. But still, if you are unwilling to spend money, we have provided those solutions too. You can choose any of the given free Whitepages accounts listed in the article.
6. How Many Active Users Are There?
There are more than 2.1+ million people using the Whitepages website every week. 
7. How to Cancel Whitepages Premium Subscription Plan?
To cancel Whitepages premium subscription plan, you have to follow certain steps given below. First of all, visit the Whitepages website. On the top right-hand corner, head to My Account and then choose the "purchase and billing" option.
Next, scroll down until you see the option "Subscription Status". Lastly, click on the "Cancel Auto-Renewal" option. That's it. follow these steps to cancel the Whitepages premium subscription.
8. How Does Whitepages Collect My Info?
There are lots of sources that Whitepages collect information from. Moreover, it accumulates information from different social media platforms.
Also, it collects data from property deeds, telecom companies, and other third-party companies. Don't worry, all your data will be handled safely.
9. What Is the Minimum Subscription Plan?
As per your needs. The platform offers multiple plans at different prices. For instance, Whitepages unlimited plan costs you $3.99 per month offering unlimited basic lookups including current addresses, relatives, and landlines.
Alternatively, the Whitepages unlimited plus costs you only $4.99 per month offering 20 premium lookups and for $19.99 more than 200 premium lookups will be accessible, and the annual package costs $29.99.
Like this post? Could you share it with your friends?
Suggested Read –
Ending the Article:
Whitepages is the most reliable website for public search, authenticity, and other official works.
If we leave all these supreme conveniences of Whitepages, it will still stand out to be the most acceptable website because of its user-friendly interface and other premium features.
That's why more than 2.1 million people are using Whitepages every week. But it's not possible for everyone to spend money to purchase a subscription plan on Whitepages.
That's why in this article we have mentioned every type of free Whitepages premium accounts. All these accounts have been taken from legit sources and there is no third-party interference in it.
So, if you are someone who browses every day like "Whitepages premium account that works", this article will help you find a working Whitepages premium account. 
Keep in mind, before collecting free Whitepages accounts and passwords, make sure to visit safe websites. Otherwise, you will end up getting scammed by hackers. So be careful while choosing free Whitepages premium accounts for yourself.
Hope no confusion is left regarding free Whitepages premium accounts. If you like this post, share it with your friends, and let us know that you've found an account. For any queries, feel free to reach us through the comment section below.
Disclaimer: The provided accounts are offered for free on an as-is basis. We do not guarantee their status or functionality, and we are not liable for any issues that may arise from their use. You assume all risks and responsibility for any consequences that may result from using these accounts.