Make money with WhatsApp
Hey guys, I'm back with another awesome make money trick from which you can make money very easily. I've shared many make money tricks before which received good reviews so, that's why I thought this one would be a good choice. In this post I've shared 4 ways to make money with WhatsApp. Yes you heard it right! You can make money with WhatsApp. I know that you all are using WhatsApp and enjoying it but I know that you've never ever imagined that you can make money from it. Below I'll mention all the ways to make money with WhatsApp. Highly Recommended – How to Make Money on Instagram 2016 [Complete Guide].
Below are the ways you need to follow to make money with WhatsApp –
Also Read – How to Earn Money with YouTube
Ways to make money with WhatsApp –

1. Use link shortening services –

Use link shortening tools is a  very easy to make money. There are lots of link shortening services like shorte.st etc. These services let users shorten the links of different web properties and once you get a click for the link, you get paid some amount of money.
After registering find good content which is authentic, viral and stuff people like to see like good articles of popular websites, viral videos, cool photos, interesting facts. Once you find relevant content you can shorten that link from Shorte.st and then share that link to different WhatsApp contacts and groups. As i mentioned earlier you'll get paid once you get a click.
The amount you'll be paid for each click would be something between 0.1$ to 5.0$. The money you'll make would be dependent on the country from which you receive clicks. If you get clicks from countries Like Germany, America, UK the amount would be pretty decent. Click here for full Guide.
2. Affiliate marketing –

Affiliate marketing is a great way to make money online, especially from WhatsApp. So What is Affiliate marketing? Affiliate marketing means marketing of products of specific brands and companies. Once you sold a product you get a certain amount of commission for that. Affiliate marketing is considered the best way to earn money online.
Amazon is considered best for Affiliate marketing, because of huge commissions and variety of products. The whole process of signing up and getting started with Amazon is very easy. For commission of different types of products refer the below the image. As per I'm concerned this is the best and most effective way to make money with WhastApp. Most all internet entrepreneurs are completely dependent on affiliate marketing.
Once you sign up you have to copy the unique links of products and share in your different WhatsApp contacts and groups. Now, you're realizing why I called this a easy to make money with WhatsApp.
Also Read – Download The Amazing Windows 10 Launcher For Android
3. Using PPD networks –

PPD stands for Pay per download. PPD networks pay you money when the file which you've uploaded on the Website. There are various PPD websites but my suggestion that you should go with OpenLoad.co. OpenLoad is called best PPD network in the world because of high payments and it's very easy to sign up and getting started. So, to make money you need to upload any file like a movie, images, songs in Openload and then share the unique links in different WhastApp groups and contacts. You'll be paid when you receive a Download from that link of that specific file/ For every 10k Downloads you'll be paid 10$ to 40$. See below images for information.
4. Referring Recharge Apps –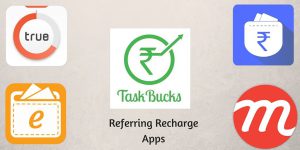 Referring Recharge Apps can be another good way of earning money. From this won't get direct money but you'll get free recharges, PayTm cash and more goodies. There are many good Apps like TaskBucks, Earn Talktime, Ladooo etc. which give instant recharges. So, you need to share their referral links in different Whatsapp contacts and groups. If you want some good free recharge Apps then refer this Guide.
Ending the Article –
Thus, I have shared all the ways to make money with WhastApp. My suggestion to all is to join more and more WhatsApp groups to share the content to more and more people so your chances of earning would increase by a good margin. If you want to earn real from referring App then go to this Guide.
This article was very important for me because I do believe that using Whatsapp should be bit productive in your life and passing time on WhatsApp can make cool cash for you. It is very easy but still not a piece of cake you have to work bit hard to get genuine results. It won't be quick but results will defiantly come. Now your friends and groups can be seriously useful to you.
I've also shared more and more group you will join the more people you will reach. So, start earning
So, hence was the post to make money with WhatsApp. I hope you like the post. Feel free to comment your reviews in the comment box.