The first thing that strikes in our minds is WiFi hacking when you talk about hacking, in general. No wonder the word WiFi hacking is the most searched term on Google.
Well, the fact that you're reading this article indicates that you have come here looking for PLDT Wifi hacker Apk. In today's date, you will find plenty of WiFi hacking apps with just a simple Google search.
However, most of them are outdated or do not work properly as they're supposed to.
The main purpose of this article is to showcase PLDT Wifi hacker Apk and how you can use it to access basically any Wifi Network in Philippines. Let's go ahead and start off the topic without wasting any further time.
Fun Fact: The App is also known as Blood Security Hackers apk.
Also Read – Free War Thunder Accounts with Jets and Vehicle
What Is PLDT WIFI Hacker Apk:
As you may already know how expensive internet services have become lately, especially in Philippines. The charges of Internet Service Providers are going through the roof in most of the countries all around the world.
Nowadays, you can't really do anything without having a reliable Internet connection and you have to shell out a huge chunk of money to avail the service.
Fortunately, an app called PLDT Wifi hacker Apk has been developed by an indie developer that allows users to connect to any PLDT based networks for free of cost.
Also Read – Top 10 IT Companies in India
The way PLDT WiFi hacker Apk works is quite simple, you just have to download and install the App on your Android device to get started.
Having said that, please keep in mind that the app is useful only for hacking into WiFi networks that are based on PLDT, which happens to be a popular Internet Service Provider in Philippines.
Also Read – 100% Working Free Roblox Accounts With 100K Robux
PLDT WiFi hacker Apk Information:
| | |
| --- | --- |
| Name | PLDT WiFi hacker Apk |
| Version | v1.0 |
| Size | 350 Kb |
| Developer | Indie Developer |
| Price | Free |
| Android Version Required | 2.1 and Above |
| Updates | Regularly |
The utility of PLDT WiFi hacker App is quite self explanatory at this point. Nevertheless, here is a brief list that showcases the highlight features of the App.
Features Of PLDT WiFi Hacker Apk:
Ability to hack into any Philippines Long Distance Telephone Company Network within a few minutes.
The Apk is compatible with almost every Android device that is running on Android version 4.4 or higher.
The user interface and navigation is minimalistic in nature, to make sure everything looks organized.
One touch option to scan for networks that are available in your surrounding area and hack into them.
There's no sign up or any such sort of thing in the app, it's completely free to download and use for users.
PLDT Wifi hacker Apk is a standalone application, meaning, you don't need any additional apps or setup to use the app on your Android device.
Well, after going through the list of features, you might want to download and try out the app on your Android device. Go ahead and follow the steps mentioned in the below guide to get started.
Also Read – Free CODM Accounts with Premium Weapons and Skins
How To Install PLDT Wifi Hacker App On Any Android
As you may already know, the nature of PLDT Wifi hacker App doesn't allow it to be listed in the Google Play Store or any other official App Store for that matter.
Therefore, you will have to manually install the app on your Android device by downloading its Apk file. The steps to install PLDT Wifi hacker App on Android device are as follows:
Step 1 – Go to Settings > Navigate to Developer Options > Enable "Installations From Unknown Sources".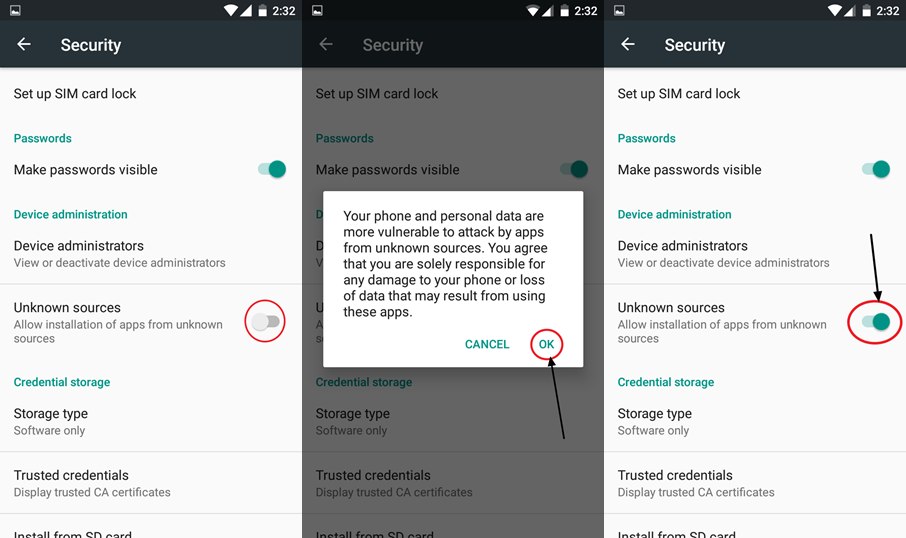 Step 2 – Now download the PLDT WiFi hacker App in the Apk file format from the below button on your device.
Step 3 – Navigate to the "Downloads" folder of your device and Tap on the Apk that you have just downloaded.
Step 4 – Confirm the installation by selecting the "Install" option whenever prompted on your screen.
Step 5 – That's it, now just wait for a few seconds for the App to finish installing on your Android device.
Step 6 – Upon launching the app for the first time, you will be asked to grant certain permissions in order for the app to function on your device properly.
Also Read – Download Bugtroid Pro Apk: More Than 200 Android and Linux Tools for Pentesting and Forensics
How To Use PLDT Wifi Hacking App On Android:
As stated in the earlier part of the article, the user interface is actually quite simple and not clumsy unlike other apps that fall in the same category.
Launch the PLDT Wifi hacker Apk > Grant the necessary permissions > Tap on "Scan" option to and wait for the networks around your location to appear on your screen > Select the PLDT based Wifi network from the list > Confirm the hacking and wait for a few minutes.
The app will automatically start hacking for the network's password after selection, you just have to wait to be patient and let the app do its work, make sure not to interrupt the process or close the app while it's working.
Sometimes, the app may fail to capture the password or hack into the network and there could be many reasons behind it. Nonetheless, you can try again or select any other WiFi network that is based on Philippines Long Distance Telephone Company network.
Like this post? Share it with your friends!
Suggested Read –
Ending the Article:
Well, that's pretty much everything that you need to know about the PLDT WiFi hacker Apk and that brings an end to this article. There are several applications with similar functionalities, however, when it comes to hacking PLDT based WiFi network, none of them come even close to it.
In case if you face any trouble while hacking into any WiFi network using the app or have any further queries, let us know in the comment section.